JLL's APAC Team Has Been Awarded IACCM Certification!
---
The International Association for Contract & Commercial Management (IACCM) enables organizations and professionals to achieve world-class standards in their contracting and relationship management process and skills.
IACCM offers training and qualifications on a range of commercial disciplines, including Supplier Relationship Management. Ten team-members fromChinaspent many hours of their spare time completing the course, and their exam results - shown opposite - were truly outstanding! Together with 15 other non-JLL candidates, SCMP became the first batch of IACCM certificate professionals inChina.
Only three candidates among 25 achieved full marks - all from SCMP - Lucy Gao, Sunny Mu and Michelle Wang.
---
Lucy (left) was involved when IACCM planned to enter China early last year, noting, "While translating three chapters of the Contract & Commercial Management (CCM) Operational Guide, I realised it was a very developed system, mixed with key points about procurement, finance, legal and management. Grasping this 'combined' knowledge will help with our career development and benefit JLL."
According to Sunny (left), the most challenging part was finding time to study, commenting, "Daily work is so busy, especially looking after my child and family, so the learning time had to be squeezed out from an already tight schedule. My knowledge foundation was intensified, and this will enhance my strategic thinking on overall planning as well as my technical skills on business case handling – I'm already putting what I learned into practice."
Michelle (left) said that the IACCM course helped her understand the breadth and depth of CCM, not just corporate or organizational policies and practices, but also as a key instrument for quality control and brand management, noting: "I now pay closer attention to the individual T&Cs and ensure contract governance procedures are constantly under review to deliver market advantage."

ed into practice."
JLL SCMP Beijing team members, Karina Jia (2nd from left) and Michelle Wang (far right) with Ronald Wang IACCM's head trainer (far left) and Jim Bergman IACCM VP. Both ceremonies were held in JLL's Shanghai and Beijing offices
---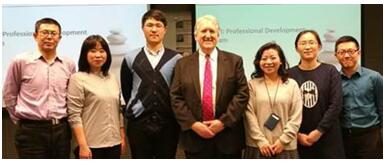 JLL SCMP Shanghai team members with IACCM VP, Jim Bergman. L to r: Tiger Yang, Sunny Mu, Murphy Sun, Jim Bergman, Marine Ma,
Hina Yin and Harry Yao